Department of Industrial Biotechnology
The Department of Industrial Biotechnology has kept a high standard of education and research in a wide range of the biotechnology field. Employing DNA technology, protein engineering, and cell/tissue culturing techniques, in combination with the recent advancement of biomolecular structure determination, genomic information, and bioinformatics, the department is revealing basic mechanisms of a variety of biological functions.
The core competencies of the program are to develop skills that are both job-oriented and problem-solving. It also concentrates on a thorough understanding of basic principles of molecular systems that involve studies in Biotechnology. The department of Biological Sciences, thus, through this program provides a forum to discuss global issues with respect to the subject and prepares students for project handling in the industry or to pursue research at the graduate level. In addition, we are making efforts to apply such basic findings to contribute to the prosperity and welfare of human beings.
The Industrial Biotechnology department encompasses the following research groups:
Microbiology and Virology Research Group (Dr. Saadia Andleeb, Dr. Najam Us Sahar Sadaf Zaidi, Dr. Fazal Adnan)
Integrative Biology and Genomics Research Group (Dr. Amjad Ali, Dr. Saadia Andleeb, Dr. Tahir A. Baig)
Food Biotechnology Research Group (Dr. Abdur Rahman, Dr. Fazal Adnan)
Nano-Biotechnology Research Group (Dr. Hussnain A. Janjua, Dr. Shah Rukh Abbas)
 Enviro Research Group (Dr. Tahir Ahmed Baig) 

Antibacter Research group

(Dr. Fazal Adnan)

Vaccinology and Therapeutics Research Group (Dr. Najam us Sahar Sadaf Zaidi Dr. Amjad Ali )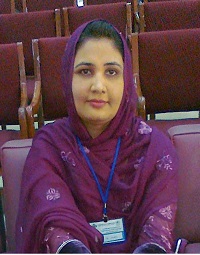 Dr. Saadia Andleeb
Welcome to the Department of Industrial Biotechnology, Atta-ur-Rahman School of Applied Biosciences, (ASAB). The vision of the Department of Industrial Biotechnology is to expand knowledge in Basic and Applied Science & Technology. We are proud to deliver outstanding postgraduate professional education like MS and PhD that offers exciting and varied career opportunities. We aim to deliver excellent teaching facilities and research across the broad span of modern Industrial Biotechnology. The academic programmes are assisted by regular and visiting faculties and are offering some of the finest resources available to a modern-day scholar. Though young as a department, we have done spectacularly well to develop the spirit of entrepreneurship and ideas that can be scaled up and be of potential benefit to the industry. The scholars are well trained in multi-dimensional fields and the research being carried out reflects the expertise, creativity and initiative of the faculty who set the research agenda, and who have a long tradition of engaging with their colleagues and students to work across disciplines. We, at the National University of Sciences & Technology (NUST) in general, ​and at School of Applied Biosciences in particular, apply practical science and pursue the development of human resources who can contribute to the international and local communities through their broad knowledge and global perspective. Biotechnology has traditionally been associated with the medical and pharmaceutical sectors. However, Pakistan has a broad capability in industrial biotechnology with both research and commercial activities across several key areas including biofuels, biomaterials, chemicals and enzymes and bio-mining. Industrial biotechnology – also known as white biotechnology – uses enzymes and micro-organisms to make bio-based products in sectors as diverse as chemicals, food and feed, healthcare, detergents, paper and pulp, textiles and bioenergy. A number of products already on the market include biopolymer fibers used in both construction and household applications, biodegradable plastics, biofuels, food processing, lubricants and industrial enzymes. Biotechnological processes also constitute a key element in the manufacturing of some antibiotics, vitamins, amino acids and other fine chemicals. Owing to their vast applications in various fields, the value of the biochemicals (other than pharmaceuticals) is expected to increase from 1.8% of all chemical production in 2005 to between 12% and 20% by 2015 according to the latest surveys. Moreover, a recent report by the World Economic Forum (WEF) concluded that converting biomass into fuels, energy, and chemicals has the potential to generate upwards of $230 billion to the global economy by 2020. Our faculty has been striving to establish state of the art research facilities in the department. One of our key members, Dr. Shah Rukh Abbas has patented a portable electrochemical DNA Aptasensor to diagnose active Tuberculosis at an earlier stage from raw biological samples. This project adds significant contribution to the diagnostics and biomedical sensing industry in Pakistan. Finally, we are committed to building on our role as a 'thought leader', by making the insights of our researchers and teaching staff widely available. We also seek out leading international specialists for collaborative research, to run workshops, give public lectures and participate in forums, and are increasingly harnessing the zeal to attract the best of the very best. I warmly invite you to explore the benefits of partnering with us. Dr. Saadia Andleeb Head of Department Industrial Biotechnology
Read More